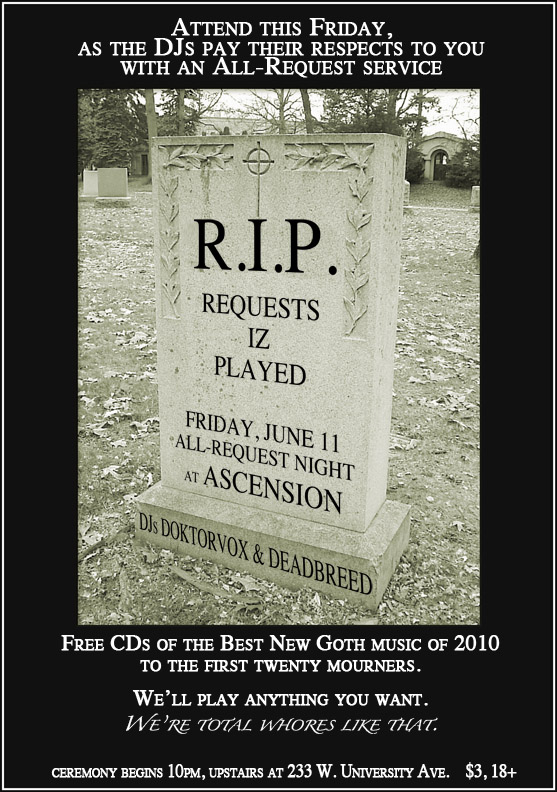 So tell me what you want, what you really really want.
Gainesville's premier goth club will be playing all requests this week! It would be a great night to try it out!

..!! Jello Shots are $1 ALL NIGHT LONG!
..!! TONS of $4 Drinks!

$4 COVER | 18+ WELCOME | DOORS AT 9:30 PM!

Twitch at UC!
..!! BEER IS ABSOLUTELY FREE between 10 PM and 11 PM!


$3 21+
$5 20-
DJ Donna is spinning at Atlantic tonight! Tired of the Bon Jovi/Def Leppard/Bon Jovi sandwich you hear every week at Market Street? Come enjoy DJ Donna at Atlantic!!! Tonight! Friday! 11-07-2008!
Moonrazor Productions presents
Die Sektor
Earth Empire
DollhouseX
with DJ Das Toy (Resurrection Radio 100.5 The Buzz)
July 19


10 PM / 18+ / $8 / $6 advance purchase
Backstage Lounge
1315 S Main St
Gainesville, FL 32605
Advance purchase:
Fridays: Under the Sun (Goth/Industrial/Electro/Dark Alternative), 10-2, 18+ $3
All beer and well drinks are half off until 11!
Saturdays: Back to the Eighties (80s! Duh.) 10-2, 18+ $3 ($5 for under 21), feat. DJ Donna (Durty Nelly's longtime favorite)
And new this week...
Sundays: Velvet (a night for lesbian and bisexual women), 8-11, 18+ NO COVER, cheap drinks, sponsored by Girls Night Out
This is just a heads up about three of the nights now running at Club Wise Guys Remix (101 SE 2nd Pl., underneath the Sun Center)
This IS a night catering to lesbian, bisexual and women in general. However we welcome any mature, respectful and open minded individuals to come out to the debut on April 20th and have a great time with us.
Come out and support!!
Bring a million friends!!